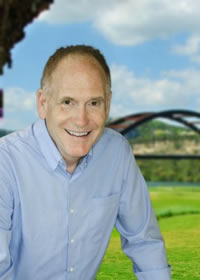 By his count, Marc Miller has changed careers seven times, and he figures he's got plenty of advice to share with others who are thinking about changing careers later in life.
That's how he arrived at his current occupation, "career design specialist." The Austin, Texas, resident founded Career Pivot early in 2011 to help Baby Boomers take a planned approach to career changes.
A conversation with Miller is an insightful, winding trip that weaves his own experiences with career advice and a bit of philosophy about Baby Boomers, who are now somewhere between 48 and 66 years old.
"One of the things that's very typical of our generation, we made changes when opportunities appeared. Very rarely did we, as a generation, create our own opportunities. We as a generation were raised by our parents to be employees, to go work for father-like, paternal organizations that would take care of us." That model doesn't work anymore, he said.
"As a result, most of us are used to looking for opportunities rather than making opportunities."
Miller, now in his mid-50s, started his own career transformation after a quarter century as a corporate trainer in the high-tech industry. After a near-fatal bicycle accident in 2002, he decided "it was time to go explore what I really wanted to do."
Tried teaching high school math
First, he applied his experience as a computer programmer and trainer by becoming a high school algebra teacher. It seemed like a good idea at the time, but after two years of being locked in a building for 10 hours a day with a rigid schedule, he decided it was time to look elsewhere. "It's a very socially isolating environment, and it drove me nuts."
In 2006, he signed on as the corporate development manager for the Jewish Community Association of Austin, where was able to spend a lot of time polishing his networking skills. He also joined the Launch Pad Job Club, a job networking and support group, and began to help others polish their job-hunting skills and conducting Birkman personality assessments at very low cost.
He returned to technical training in 2007, but he turned his full-time attention to Career Pivot in January 2011.
He figures it will be about two years before his new business is profitable, "but it's been a lot of fun."
"I'm getting a lot more fulfillment. I'm working with six clients right now, where when we reach success, damn, it feels good."
In new business, he can't do everything
He's faced some challenges in his new venture. First, he's had to overcome his tendency to want to do everything himself and his aversion to spending money. To be successful, he's realized, he has to pay others for certain tasks, like web design, for example.
"Understand the things you just flat don't like to do or are not good at. And that's one of the biggest challenges people have." Even if you don't have much money, "There are ways to barter. I've been bartering with people. I've been doing a variety of different things so I don't have to spend money."
Of course, there are moments of lost sleep. "There are various different times when you wake up in the middle of the night and you're going what the hell am I doing? Why am I doing this? You have to have faith that eventually things are going to pan out. I started my blog in June of 2011, in the last month it has brought in two clients. So it's taken a good eight, nine months before that particular vehicle has begun to bear fruit."
He's also learned to surround himself with people who support his efforts. "One of the other pieces is building a fan club, people who go 'Go for it, go for it! You're good enough.'"
Another challenge has been dealing with less income. "We've downsized into a condo. It doesn't cost us that much to live. So we've downsized our lifestyle, and I have a much more relaxed lifestyle now," he said.
He figures he'll stick with Career Pivot for a while. "I don't know if I can say I've always wanted to do it. … I like helping people. I like communicating. So the next step is to take this where I can take my message out on a broader basis."
Don't plan on retiring
One of his additional messages for Baby Boomers: Don't plan on retiring at 65. In fact, he's written "Don't Retire … Even if You Can: A Boomer's Manifesto," an essay to make his case.
"Once you hit 65, if you're in reasonable health, the odds of you living into your 90s are very good. Are you going to be able to go 30 years without working? Do you actually want to go 30 years without working?"
Work provides other rewards besides money. "You get socialization. You get a sense of value out of doing work."
While launching Career Pivot and blogging about his experience, Miller has been on his own journey of self-discovery. "One of the big things I have found is the more I understand myself, the more likely I will do things in the future that will continue to make me happy."
Did you enjoy this article? Please leave a comment and share it with your friends! Have you undergone your own career transformation after 50 or know somebody who has? Please send me a note. Let's inspire others!